CCTV security for small businesses are one of the best ways for small businesses to ensure their premises are always protected. They can help prevent theft and break-ins, boost employee productivity, provide evidence for insurance claims, and more.
CCTV allows you to monitor different areas of your business continuously in real time. You can do this from any location, and it is important to have cameras with a large field of view.
Why CCTV surveillance systems are a game changer
As a business owner, you must take every measure possible to protect your property and assets. However, locking the doors alone is insufficient to prevent criminal activity on your premises. CCTV security systems help deter crime and keep your property safe round-the-clock.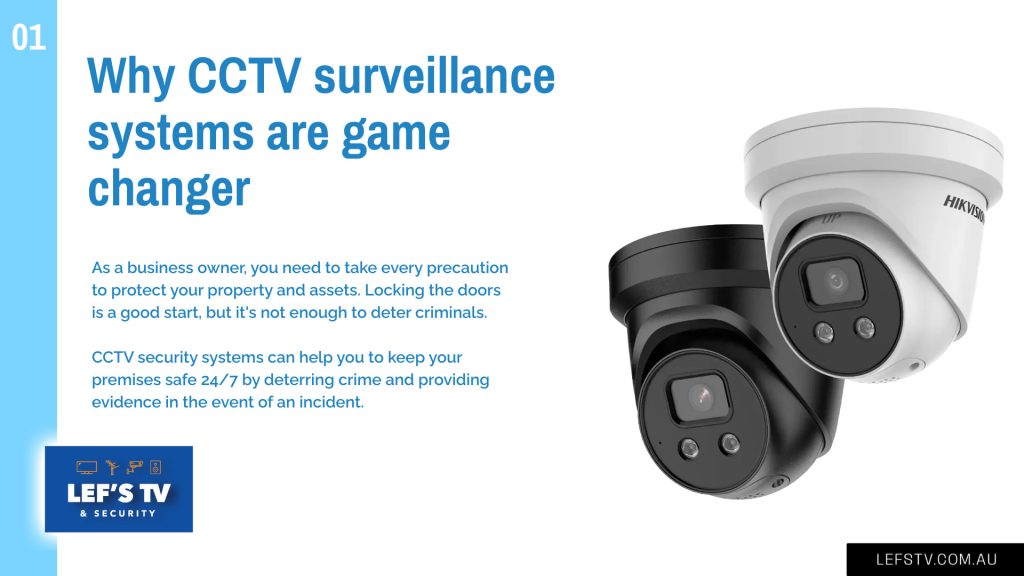 A good CCTV surveillance system has multiple lenses to cover a large area. These cameras can also detect movement and vibrations and have audio to listen to conversations. In addition, many of these systems have AI-powered facial recognition to track and identify suspicious individuals. The surveillance system makes it much easier for law enforcement to catch and prosecute criminals.
CCTV can also monitor employee behavior and ensure that they follow company policies. CCTV Security For Small Businesses help to minimize internal theft and fraud and improve productivity. Furthermore, high-quality CCTV systems can record incident footage that will provide proof of wrongdoing in case an insurance claim needs to be filed. CCTV Security For Small Businesses will save you time and money in the long run. Time and money savings are major factors, so CCTV is a game changer for businesses.
Prevent Theft And Break-Ins Round-The-Clock
CCTV surveillance systems are valuable in preventing break-ins and theft at your small business. With a system in place, you can monitor all activities within your store, including cash registers, loading points, and parking lots. Many newer digital systems also allow you to view your footage from a mobile device, even if you are not onsite.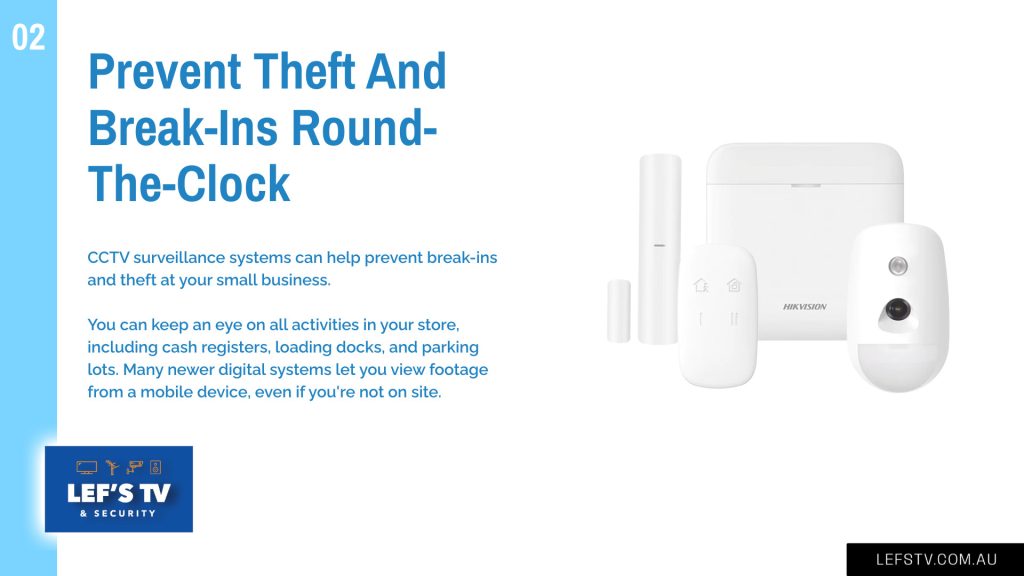 Additionally, a security camera can help deter sexual harassment or workplace violence. It serves as an "eye in the sky" and nips would-be offenders in the bud, helping to create a safe work environment for female employees.
Furthermore, a surveillance system can help document slips and falls on your business premises. Surveillance systems will prove valuable in pursuing insurance claims against an offending party. However, it is important to ensure you are fully aware of the privacy laws in your area and country when installing a CCTV surveillance system to ensure you do not run into any legal issues.
Monitor employee behaviour and productivity by CCTV Security For Small Businesses
CCTV surveillance systems monitor employee behavior around the clock. The fact that employees know that they are being monitored can increase their work ethic and performance. Surveillance systems can also prevent them from misbehaving and can help deter crime from happening in the first place.
CCTV cameras can record footage in a high resolution, ensuring that important details are preserved. These recordings can be reviewed later to check whether staff members misbehave. Surveillance systems will allow you to make necessary changes and improve the overall customer satisfaction of your business.
You can use CCTV camera recorders to store footage on a hard disk. It would be best if you opted for surveillance-grade hard disks to ensure maximum longevity and endurance of the recording devices.
Ensure A Safe And Efficient Work Environment
In addition to protecting your business from break-ins, CCTV surveillance systems can help ensure employees do their jobs properly. Employees are less likely to steal if they know they are being recorded, which can improve productivity and efficiency.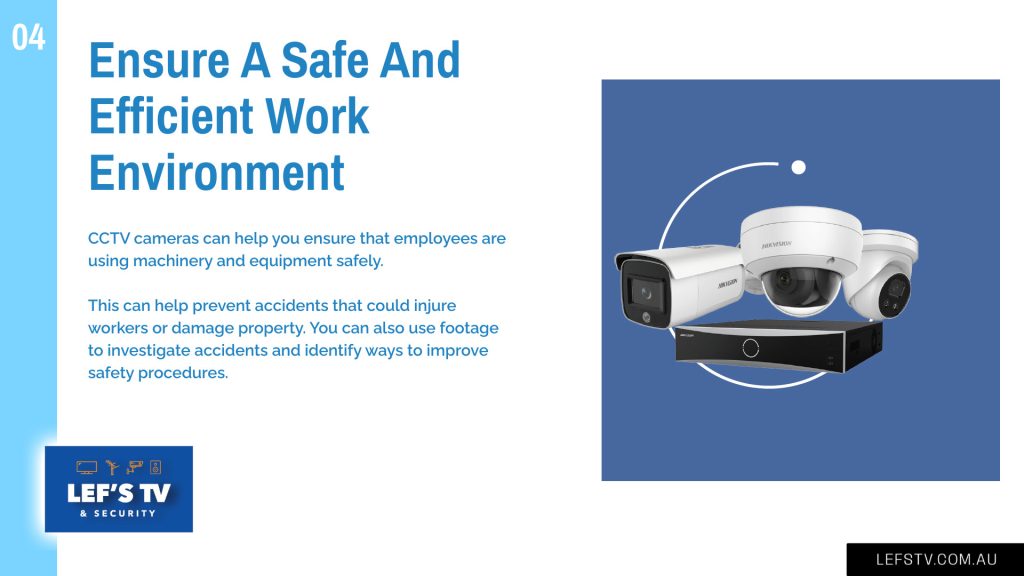 Furthermore, CCTV cameras can help you ensure that employees are operating machinery and equipment correctly. Surveillance systems can prevent any accidents that could cause injury to workers or damage to your property. You can even use your footage to determine the cause of any workplace accident, which can help you improve your safety procedures.
Moreover, you can also monitor visitors, which can prevent insider theft. If you integrate your system with a modern access control solution like Kisi, you can get notifications directly on your smartphone when an unauthorized person tries to enter your workplace.
Provide Evidence For Insurance Claims
Many insurance companies offer reduced premiums to businesses with CCTV systems in place. Besides CCTV's obvious day-to-day security, theft prevention, and claim defense benefits, it also plays a crucial role in proving that your company upholds the necessary safety measures and procedures. In case of an incident like a slip or fall, the footage helps you settle matters quickly and effectively with your insurers.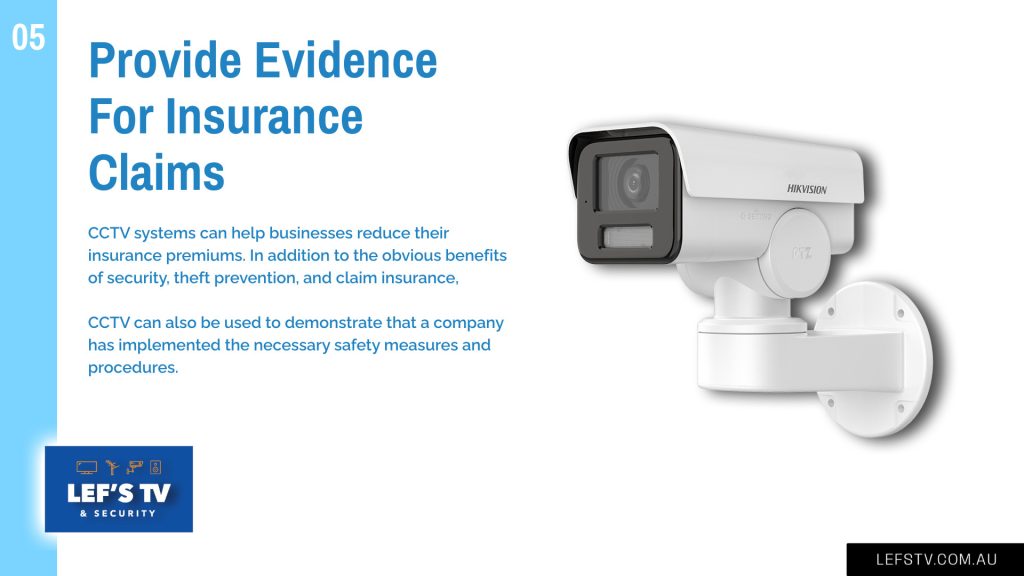 CCTV is useful in answering at least two of the five investigative questions, namely who was involved and where it happened, known as the '5WH' question model. Images may be useful in identifying suspects or in contextualizing other evidence, such as witness testimony.
Unlike surveillance systems in homes, most CCTV footage is recorded in areas where people do not have a reasonable expectation of privacy, such as business premises. Surveillance systems make it much more useful in a criminal investigation, especially for crimes that involve trespassers. This information can be used to prosecute those who break into your premises and cause damage.
Deter Crime And Increase The Overall Security
Studies show that CCTV surveillance systems can deter criminal activities like shoplifting, burglary, and other unauthorized activities in a business. This feature is especially important for retail businesses as thieves and robbers often target them.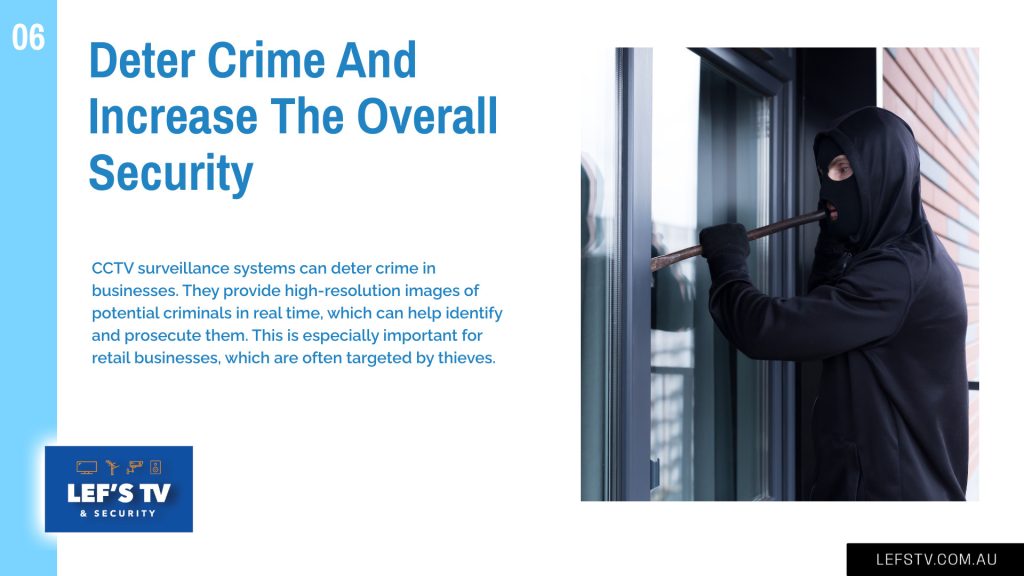 Another reason a small business installs a CCTV system is to prevent accidents and ensure workplace safety. For instance, placing CCTV cameras in accident-prone areas is necessary if your company manufactures hazardous chemicals or handles dangerous goods. Surveillance systems can help ensure that employees follow proper safety procedures and can be used as evidence of a mishap.
CCTV security systems can be installed in various ways, including wired and wireless. Many home insurance companies even offer discounts for homes with this security system.
Gain peace of mind knowing your premise is secure.
Having CCTV surveillance systems gives you peace of mind. Even on vacation, you can still check in on the business and monitor what is happening onsite. Surveillance systems help to keep the business safe and prevent crime from happening in the first place.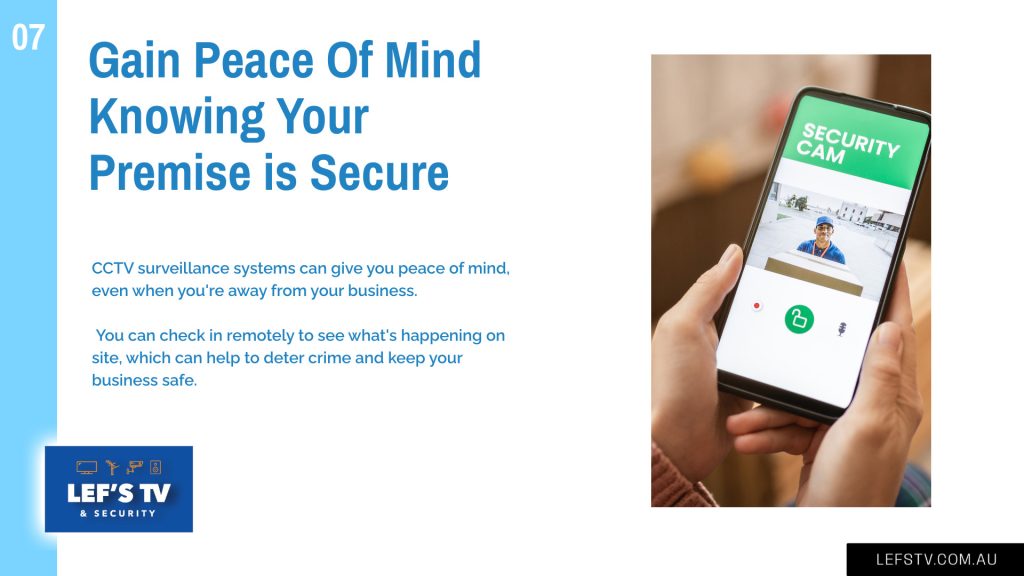 Adding CCTVs to your business also provides valuable evidence in the case of a crime. This footage can help you to identify shoplifters, clear up he-said and she-said situations, and work in your favor if one of your employees is accused of something they did not do.
CCTVs are a great investment for small businesses, especially because they can help to reduce theft and break-ins around the clock. They can also be used to monitor employee behavior and increase productivity. In addition, they can be an invaluable tool if you need to file an insurance claim. They are affordable and scalable solutions that can be easily expanded to fit your business's needs. In the long run, they can save your business money by reducing expenses and increasing profits.
CCTV surveillance systems can be a game-changer
Businesses can implement CCTV security to prevent theft and crime on their property. Surveillance systems will help them protect their assets and increase productivity in the workplace. CCTV can also be used to monitor customers and employees. Surveillance systems will help businesses improve customer service and ensure employees follow company policies. It can also help to reduce false insurance claims and lawsuits.
It is important to consider the type of business and the location when installing CCTV. For example, retail stores should get cameras with a wide view to capture all the action. They should also install the cameras high so they cannot be tampered with or disabled.
Businesses should also choose a camera that has a large storage capacity so that they can record for a long time. Surveillance systems will help them protect their valuable assets and data. Additionally, they should choose a camera compatible with their wireless network so they can access the footage remotely.